Weddings
Let our custom limousines pick you up from your home, to the ceremony
and on to the reception in style and luxury. Amesa Limousine provides full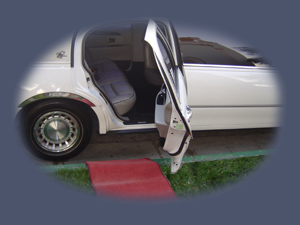 wedding service, including rolling out the red carpet as you make your way to the ceremony, and then to your reception. Our chauffeurs are professionals and properly attired. We will assist you with all of your belongings and flowers, help with your bridal party and your train, for your walk down the aisle. After you exit your service you will find complimentary champagne in crystal glasses waiting for your first toast! We are always prompt and
will transport you and your wedding party in elegance.






Executive Services

Southern California Airports
From LAX or to Burbank, Amesa Limousine's professional chauffeurs make
your trip to and from the airport comfortable. Just because we are a
limousine service does not mean we are expensive. Whether it is the
beginning of a business trip, or the start of a family vacation, Amesa
Limousine will take away the hassle of parking and traffic by allowing
you to relax in comfort in one of our stretch limousines or luxury sedans.
Night on the Town
Big date? Heading to a show? Whatever the occasion, you want to enjoy
your night out. Get together with friends and call us to be your designated
driver and allow everyone to have a good time.
Sporting Events/Concerts
From The Hollywood Bowl, Staples Center Arena, Dodgers Stadium, or the
Rose Bowl, we will bring the whole family and friends to the main event without
fighting the traffic or the hassle of parking. You will all be safe with Amesa!
Any Event
Any Occasion can be made special with our help. Keep Amesa in mind for
all the following: Corporate Events, Holiday Events, Anniversaries, Birthdays,
Bachelor/Bachelorette Parties, Proms, Wedding, and many more occasions!

Special services offered by request

Birthday service can be requested. This includes colorful balloons and confetti
in the vehicle. Happy Birthday song can be played while the birthday guest enters
the vehicle, by request.


Weddings include a luxury limousine service for 3 hours minimum.
A Red Carpet service after your ceremony and upon arrival at your reception.
A "Just Married" sign is also available. During inclement weather, we keep you
as dry as possible with an oversized umbrella.